i always look forward to thriftaholic tuesdays,
where we can share our love for thrifting with the blog world. :)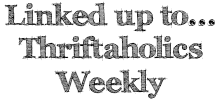 my girl,
blair
posted this last week:
Outfitting mantra: "If it feels wrong, then it looks right." A sure-fire way to unique personal style.
it inspired me to go for it and wear my new target hat to work last week.
shirt: thrifted (old navy), $3
jeans: thrifted (old navy), $5
boots: delias (gift from j for xmas)
j said i look like i'm going on safari. oh well, might as well do it in style! :)
i dare you to wear something a little funky or bold this week.
GO FOR IT :)
p.s. i was overwhelmed with the response to my thrifting tips post from last tuesday.
THANK YOU for all the 'shares' and comments. check it out if you missed it.